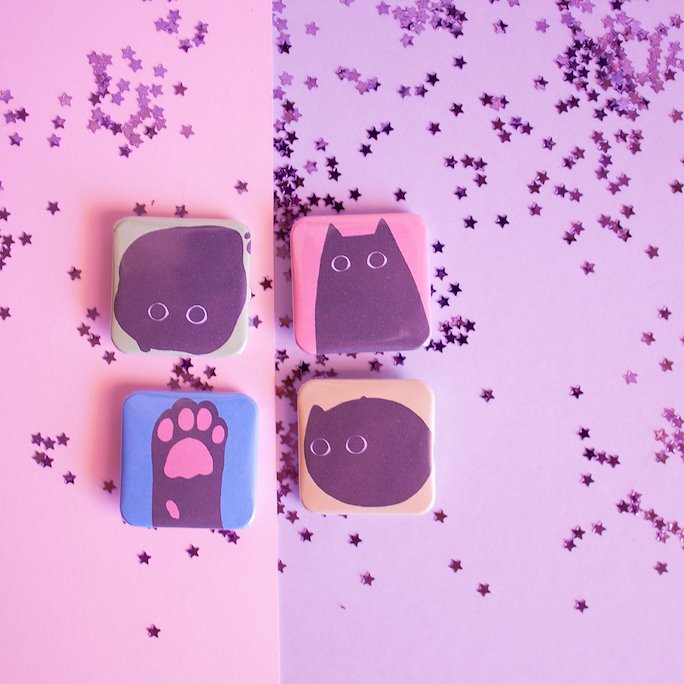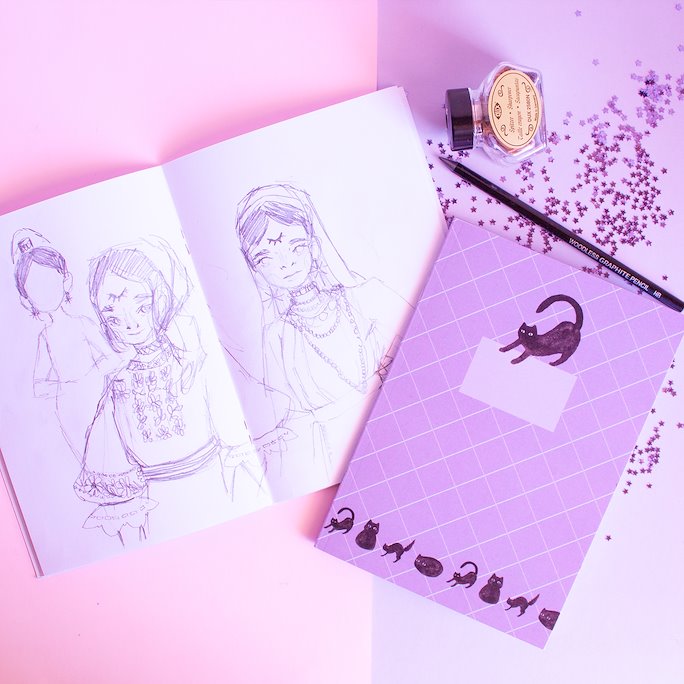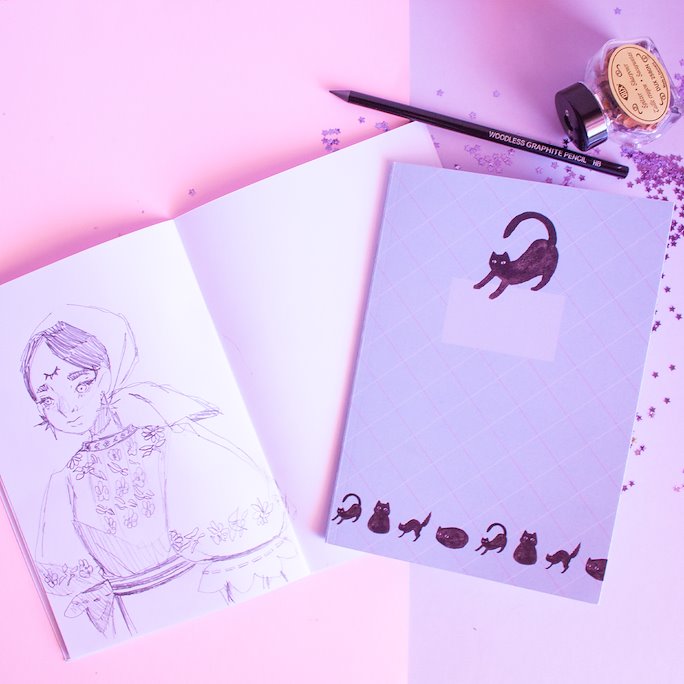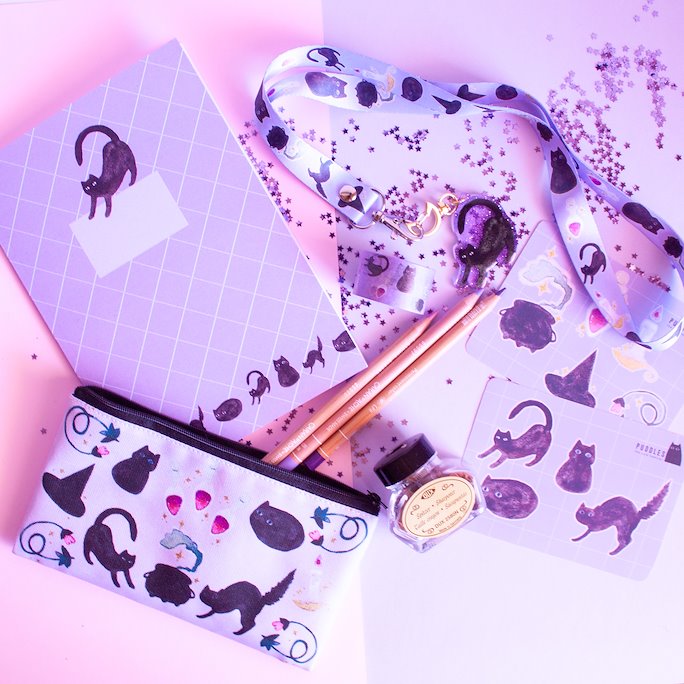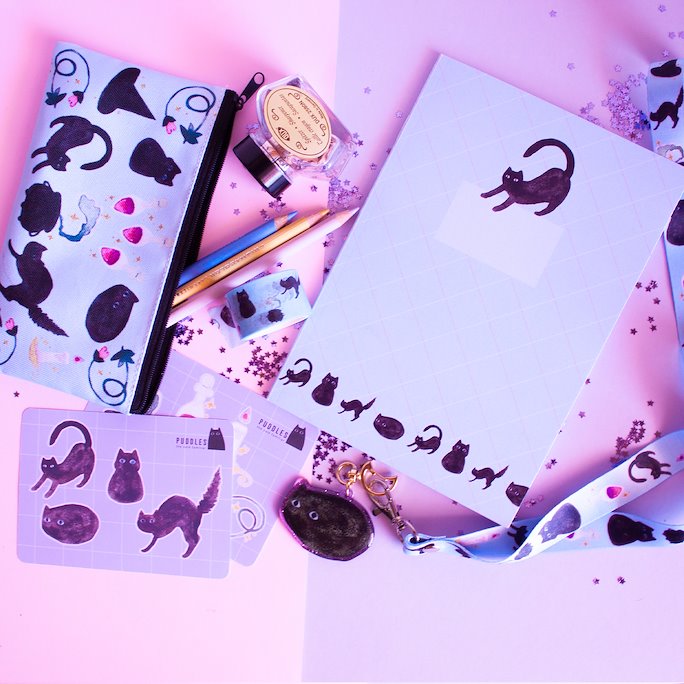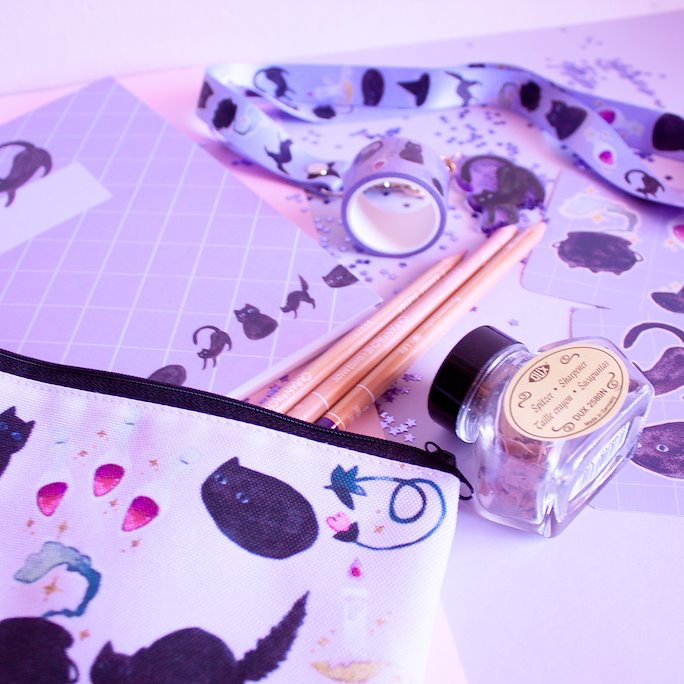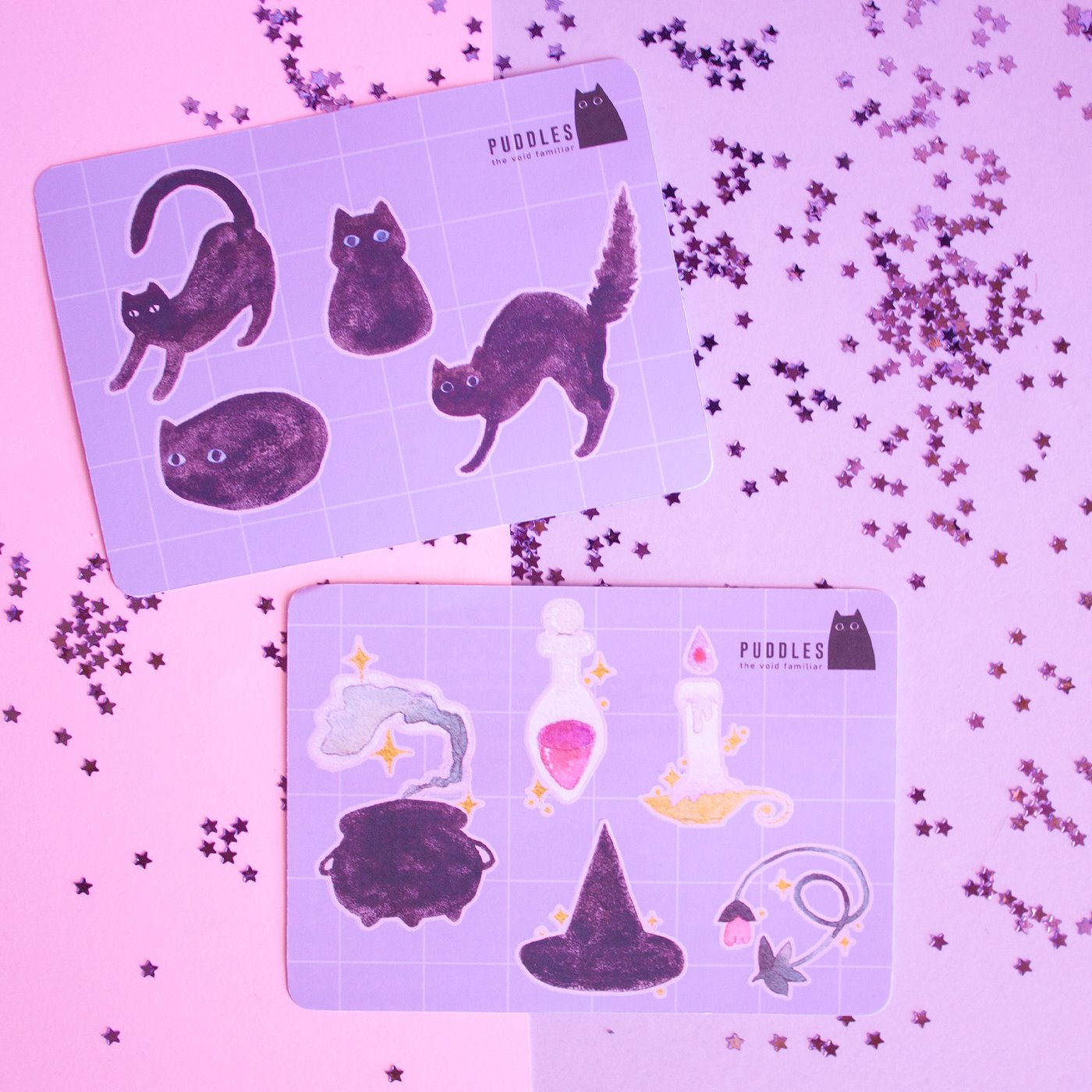 First blog of the year. I had been working on some new products for the year.
Meet Puddles the Void (cat) Familiar
I wanted to make a stationary kit, so I took a dive into making pencil cases, lanyards, washi tape and notebooks.
The overall design process was pretty smooth. I have never made lanyards and washi tape before. It was a very decent expereince. Though the Lanyards and Washi tape turned out pretty cute, there are some room for improvements. The images for the washi tape can definitely be larger and cropping would be okay. The lanyards colours and printing came out super well and very nice quality. But there was a slight issue with the misalign cutting of the fabric, so some of the print had gotten cropped off.
I recently bought a badge machine. It too me ages to get one, as I was picking the moulds I wanted, as the machine I was going to share with Anna-Le16. She was very keen in getting a Heart mould. In the end I ended up getting sqaure mould, as it was something I wanted for a long time. I am very happy with the choice for the badge.
The notebooks too a lot of time to make, as I had to wait until the printers I wanted to use. I wanted to get some samples done, as it was eaiser for me to process and fix any of my ideas when i was creating a cover. The final version turned out amazing and I been over the moon with the end product.
I used my samples to do some rough tool testing and sketching. The recycled paper is really lovely for note taking and drawing.
I think it always nerve wrecking when creating new products that I've never made before. As you process them through the final product, the amount of money having to pay to get these done. There are what if it turns out bad or not what you wanted or I made too many and they turned out terrible and would be impossible to sell. And with the added part where conventions are pretty non-existent in Australia at the moment due to covid. So doing my best to re-invent my stuff with all the time off of no conventions. Although online selling is great, but now the market is super over saturated as a lot artist are now turning on to doing online sales to also make ends meet as well, with the lack of in person sales.
So I have been doing so planning of changing how I do things with my work. I've looking at different avenues of how to get my work out there. Pushing my self to be more confident online especially with live video of myself doing art. Hopefully I'll add some more post. I think blooging is great as I have more space to talk unlike places and Instagram & twitter as the word count is low.
Thanks for coming by and reading!
Store: coralinecaroline.com
Where to get stuff done.
Here are the places I got my work done. I think there a lot people who don't know where to when creating new products.
Vograce is excellent manufacture for beginners & super accessible if you are looking to get some charms done. They have added a great deal many other products they produce. The staff is very friendly to work with
vograce.com
Print together
I got my notebook done by Print together, they are Melbourne Base. Their turnaround was very quick for me and printed at such a lovely quality. They use recylable paper & ethical style printing.
printtogether.com.au
Sticker sheets
They are handmade at home. I used a secondhand Silhouette Cameo 3 I got from some friends.
silhouetteaustralia.com.au/products/silhouette-cameo-3